Staying COVID-19 Secure in 2020
We are delighted that we have conducted the Government risk assessment and have been externally assessed by the Independent Garage Association.  We have been certified as:
COVID-19 Secure in 2020
At Redbourn Auto Solutions, we are dedicated to high quality service to ensure you can travel safely.
We are committed to providing a safe and healthy environment for our highly valued team and clients.
Whilst always observing the latest Government announcements relating to the COVID-19 (Coronavirus) outbreak, we are taking meticulous precautions to protect our staff and customers.
We have increased the number of FREE collection and deliveries so that you don't need to leave the house unnecessarily.
Should you visit, we have a robust hygiene procedure in place. Our premises are disinfected regularly throughout the day, particularly on high contact points.  Although our Reception area is closed for waiting, you may enter one at a time to speak to our Service Advisors.  Please keep a safe 2m distance if waiting outside.
Our team use seat coverings and a fresh pair of gloves for every car.  They sanitise high contact points within your car and return a sanitised key to you
Hand sanitizer is available for you to use and the team are hand-washing as frequently as possible
We are taking payments by phone prior to you collecting your vehicle, or before it is taken back to you, to be as contactless as possible
If you are self-isolating or displaying any coronavirus symptoms, please let us know in advance. We will book your car in for when your 14 day isolation has been completed.
If you know of anyone in your family, friends or communities that need our help, please share our details.
We will continue to follow Government advice as the situation develops and will keep you updated on any changes to our services.  In the meantime, we would like to say 'Thank You' for your understanding and wish you and your families well.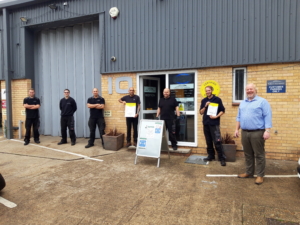 We're proud to be able to serve you to these new high st
andards… what else would you have expected from us?!