Safe MOToring
We all want to be motoring safely to minimise risk to our friends, family and anyone who may be travelling with, or near, us.   The annual MOT test was set up to keep us safe on the road, but does it achieve its original aim and are we confident we are driving safe cars because of it?… and if it's so important, why are there shortages in slots to book?!
Why do MOT tests exist?
The MOT has undertaken many improvements since it was founded in 1960.  The prosperity of the post-war economic boom of the 1950s meant that more people could afford to drive and there was a healthy used vehicle market.  However, this new automotive freedom was unregulated and, with no mandate for servicing, there was a number of vehicles on the road in a dangerous condition.
As a result, the Ministry of Transport (MOT) test was introduced as part of the 1960 Road Traffic Act.  The test was compulsory for all vehicles over 10 years old, reducing to 3 years old in 1967, due to the number of failures.  Testing was expanded in 1977, and as technology continued to develop the MOT test continued to advance also.  More changes took place in 1996 due to the EU Council Directive (ensuring there was a universal standard for periodic safety and emissions across all EU member states) and again in 2012 with EU Harmonisation changes (standardised period of testing and introduced electronic systems).  Mileage history was also introduced to help prevent vehicle crime.  2018 saw the biggest shake up in its 60-year history with the arrival of new defect categories and much tougher safety and emission testing.
The UK's roads are among the safest in Europe and much of that is due to the high standards required for the MOT test (which continues to raise standards).  A 2008 Department of Transport report estimated that even with the MOT in place, unroadworthy vehicles accounted for 10% of all UK road accidents.
What is the difference between an MOT and a service?
 Many confuse the two, but both are crucial in keeping you and those around you safe, legally compliant and ensure you don't invalidate your insurance.
Unless your car has an exemption, all vehicles are required to undergo an MOT test annually from the 3rd anniversary of its registration, but beware you don't automatically get reminded!
MOT
An MOT is a visual safety check and is a legal requirement to certify the vehicle as roadworthy on the date of inspection.  An MOT tester is not allowed to strip down or dismantle parts for an in-depth check, and they shouldn't need to as the vehicle should sail through its MOT without any additional work being required if it is regularly serviced.
The inspection criteria are the same for all vehicles and is set by a government agency.  All MOT testers are licensed and tested regularly on their ability to accurately conduct the test.  The Government recommendation is £54.85 for an MOT on an average car.  If a garage is charging you substantially less, they won't be making any money on your MOT….  Be cautious of unnecessary upsell!
Annual Service
An annual service follows detailed manufacturer guidelines to keep your car in a safe and peak condition.  This is an essential part of car maintenance as components maybe starting to weaken mechanically, the oil may need changing, or the air filter, fuel filter, spark plugs may have to be replaced helping the vehicle run smoothly.  It also makes the car more environmentally friendly and economical to run, keeps running costs down, increases its lifespan and, importantly, keeps the car roadworthy.
If a car's servicing schedule is maintained, it should be relatively painless with any niggles being addressed before they become an issue and threaten the long-term health of your car.  If your car has not been serviced for years, however, the safe and healthy running of your car may be compromised.  So, don't be tempted to miss or delay a service to save money – it could cost you in the long run.  A poorly maintained car can result in poor fuel economy in the short term and in big repair bills further down the road.
It is hard to compare prices for servicing as it is run differently at every garage according to the quality of the parts used, level of expertise, technical equipment used, and what they consider to be an intermediate, main or full service, etc.  If the garage uses servicing based on guidelines from car manufacturer, it will also vary from car to car and year to year!
Unlike MOT's, this is an unregulated area of the motor trade, so unbelievably anyone can set up as a 'mechanic' and work on cars!  The key here is to ensure that you look for quality marks which ensure those working on your car are qualified to do so.
What are the penalties?
You cannot drive or park your vehicle on the road if the MOT has expired.  The only exceptions are driving it to or from somewhere to be repaired, or to a pre-arranged MOT test.
You can be fined up to £1,000 for driving without an MOT, and your insurance is automatically invalid which attracts a fixed penalty of £300!
But the penalties are not just related to having a valid MOT….
The government website warns:
'You're responsible for making sure your vehicle is ALWAYS SAFE TO DRIVE ('roadworthy').  It can be unsafe even if you have a current MOT certificate'.  
A vehicle may be classed as being unroadworthy if:
it is in such a condition that its use on the road would endanger the driver, passengers, other road users or pedestrians.
If you drive a car with dangerous faults or that is unroadworthy, you can be fined £2,500, be banned from driving and get 3 points on your licence.
Insurance issues:
If you are involved in an accident and your car is deemed as unroadworthy, your insurance won't cover you!  If you haven't had a service recently, how do you know, or prove, your car is deemed roadworthy?!  Don't leave it to chance.  When you get your car serviced, make sure you leave with a detailed invoice.  You never know when you'll need it!
So, now we're £5,800 worse off in penalty charges, banned from driving, have 3 points on our licence, and possibly without funds to get repairs done.  That's without considering any 3rd party repairs or claims.
If you drive a car that is not roadworthy, the results can be catastrophic, so the penalties are necessarily high.  According to NSC, in May 2021 motor vehicle accidents reached 4,050 deaths…. If you could prevent just 10% of these, wouldn't you?
Impact of COVID on MOT testing
As part of the pandemic, vehicle drivers were offered a 6-month MOT deferral from 30 March to 1 August.  This caused an unnatural surge in requirements for MOT testing between August-February, as the majority of drivers chose to defer their MOT.
It is likely the impact of this will be seen for the next few years and the government are actively encouraging consumers to consider having their MOT test conducted early.  In recognition that this may well not appeal to the majority of drivers, our advice is to book early to avoid disappointment as there is bound to be a strain on the limited number of slots available.
Although you don't have to wait until the MOT is due, you are able to retain the same renewable date if you get an MOT a month (minus a day) before it runs out.  Effectively this gives you a 13-month MOT!
Thoughts…
The introduction of the annual MOT was a great start to ensuring we are all kept safe either as driver, passenger or pedestrian, but should it go further? 
If 10% of all current road accidents are down to unroadworthy cars, then we could have saved 405 lives in May 2021, shouldn't the regulations be stronger?
How long before it becomes mandatory to have your car serviced by a licensed technician rather than left for drivers to determine subjectively the condition of their car?   If you haven't visited your garage within the last 12 months for a service, perhaps consider booking one today.  It's far cheaper than the penalties for getting it wrong!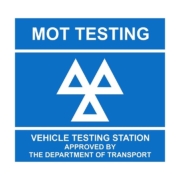 Book your MOT now!
Over the next 6 months pressures on the motor industry to complete an extraordinary number of MOT's will be tough.  Therefore, we have expanded to incorporate our own MOT facility.  If you're looking to book a slot or to incorporate this with your next service, give us a call and we'll be pleased to book a timed slot for you.
Same friendly team, located in Redbourn Industrial Estate, helping you with the convenience of conducting MOT's and correcting any faults the same day.  Happy motoring…
https://redbournautosolutions.co.uk/wp-content/uploads/2021/08/MOT-logo-e1629886801337.jpg
720
1280
Melanie Wooding Jones
https://redbournautosolutions.co.uk/wp-content/uploads/2016/11/Redboun-Auto-Solutions-web-logo-300x114.png
Melanie Wooding Jones
2021-08-25 10:40:53
2021-08-25 10:40:53
Safe MOToring