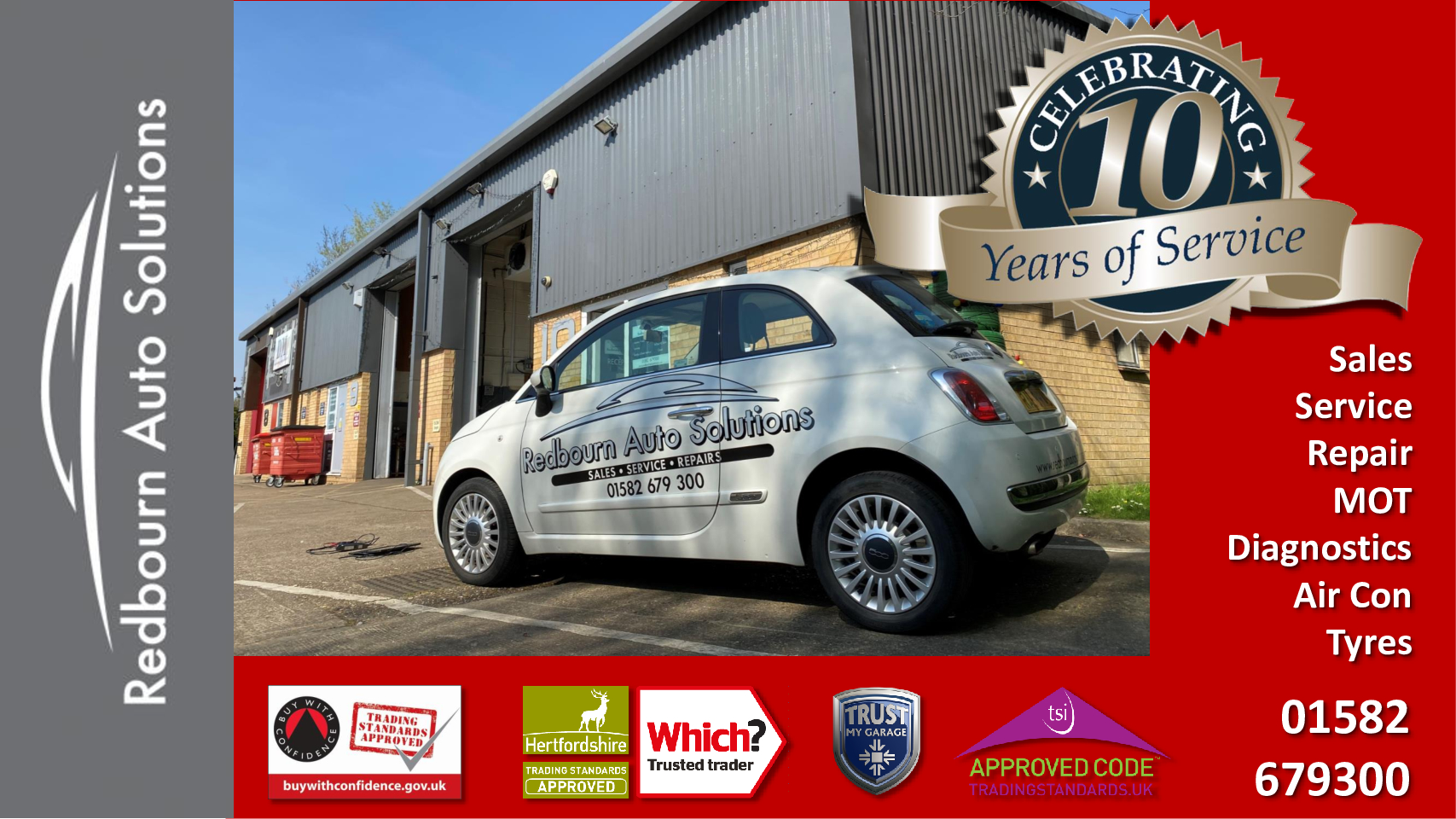 Celebrating 10 Years at Redbourn Auto Solutions!
This month the team at Redbourn Auto Solutions are celebrating 10 years since opening!  It is a business that has been through an immense journey.  So, here's a bit of it… from humble beginnings to a fabulous business who has so much to offer you, and the community around you…
The Beginning
Setting up your own business sounds so easy on paper, even exciting, but the reality is very different.  It is tough – for any business to survive.  There is immense pressure, sleepless nights, and you become fully immersed into your business 24/7 to the exclusion of everything else, so it is hardly surprising that the failure rate is so high:  20% of businesses fail during the first 2 years of opening; 45% during the first 5 years; and 65% during the first 10 years.  Only 25% of new businesses make it to 15 years or more!  It's a stark reality that many face and continue to face in these challenging financial times.
RAS has been fortunate and has overcome many challenges over the years such as waiting 6 months to obtain planning permission, increase in rent because we were 'motor trade', a second increase in rent of a colossal 45% and now a further increase as industrial units are sought after… and dare we mention the recent pandemic causing high absence, lower demand and an increase in the cost of materials (some of which went out of production), utility bills and the cost of fuel soaring?!
But we've remained determined and have stuck to our vision.  We had a vast expanse of knowledge through many years' experience in different franchised main dealerships.  We had seen the best of what a main dealer can offer, and the worst.  So, we wanted to set up a business where trust and honesty was at the core of how we operated, with fair wages so that staff were not worried about hitting their bonuses that could lead to unnecessary upsell.
We all know that you don't get anything for free, so offering 'discount for cash' or special 'big saving' deals was not for us.  We've been there, so know what it is all about, and it goes against our ethos.
We wanted to be different: Trade honestly, quality parts with knowledgeable and experienced people who are looked after and enjoy what they do.  It was an opportunity we were compelled to pursue.
We wanted to compete with the best.  An independent garage, changing common perceptions by delivering high quality service and exacting standards, providing a real alternative to a main dealer.
Our Team

We opened with a team of 4 and have grown to a team of 14.  We recruit locally with 45% of staff living in the village, and others within 6 miles of our site.
We've always believed in employing people who are better than we are, and whose skills complement each other both in knowledge of in-depth diagnostics (electrical and mechanical) and who specialise in different manufacturers.
They all understand the importance of exceptional customer service and are genuinely passionate about cars and will therefore treat your car as if it were their own.  Between the team they have 187 years of experience, so should really know their vehicles.
Talk to any of the team, their knowledge is unquestionable, and their passion for working with cars fills the air with a sense of
pride.
The team work well together, and are all genuinely lovely, talented people who support each other.
They say that a good business is built on the people within, and we couldn't be prouder of our team.
Our Work

Because we have a diverse range of skills, knowledge, and experience, we can work on any vehicle.  In fact, it is not uncommon to work on complex diagnostics that others have failed to resolve, including main dealers.  Our technicians become talented engineers with a broad and deep understanding of vehicles.  They have an ability to work across different products and identify faults, that may not be clearly recognisable to others.  We deal with many different vehicles from milk floats, horse boxes, classics and transits to Aston Martin, Porsche, and Ferrari!
To support the Technicians in being able to fault find and resolve issues quickly, we have heavily invested in a wide variety of specialist tools and diagnostic equipment, which is quite unique in our industry.
We purchase only quality parts designed for your car which are covered by a warranty for a minimum of 12 months.
We are accredited by most major leasing companies, so able to support you here also.
Our Customers

We're fortunate to enjoy having the best customers, and we have the pleasure of interacting with them and supporting them daily.
They understand good quality service, appreciate the high level of capability we can offer, enjoy being treated fairly, and
they respect our honesty and the trusted judgements being made.
Obviously, we are not for everyone, and we wouldn't want to be!  There are plenty of garages to choose from.  We are very fortunate to have some of the best customers we could wish for and listening to them has been important in shaping our business to their needs:
We originally set up as a Saab specialist, but our customers owned cars from a variety of manufacturer. So, we broadened our technical knowledge and bought in diagnostic equipment to cope with the emerging demands.
We opened a second unit to provide a nice waiting area for customers, a larger office for staff and two further ramps.
Our geographic area and customer demographic expanded into Harpenden and St Albans (and villages), so we provided courtesy cars and collection and delivery service for our customers convenience.
There was a growing demand for second hand and new cars and so we started buying and selling cars. (Our MD has been doing this for years).
We saw an increase in customers with 4×4's and light commercial vehicles, so we purchased larger vehicle lifts to cope with this demand.
Our customers said they would like tyres from a trusted supplier, so we provided tyres from budget to performance tyres and added 4-wheel alignment.
We became the first garage in Hertfordshire to gain the Trading Standards mark and Which accreditation.
We streamlined processes to ensure efficiency in every area of the business ensuring customers received their cars back quickly, which was especially important for our growing corporate clients.
We kept our customers safe and mobile during the pandemic. We ensured blue light heroes were recognised and prioritised through the workshop while keeping everyone safe.
When there was a shortage of MOT slots, we expanded into a third unit and opened our own MOT centre to cope with demand.
We listen to you, to serve you better.
What's next? 
We're continuing to grow!  We've moved from a customer base of zero in 2012, to welcoming over 27,500 cars through the door.  Customer satisfaction and retention is high.  We've seen an increase in commercial business, tyres, MOT's and in the variety of vehicle we look after, welcoming more prestigious vehicles than before.
We'll continue to go where our customers take us, without compromising our high standards.
It has been 10 years of hard graft, helping people make sure their cars are safe and roadworthy… and we've loved every moment of it!
During our 10 years serving you….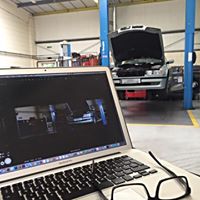 We've seen over 27,500 vehicles
We've Trained 9 Apprentices
Given 23 16–18-year-olds work experience
Employed 53 local people
Used over 60+ local businesses
Given £30,000 to charity
Donated 14 Christmas Trees!
Supported schools, charities and events such as: All local schools, Scouts, Girlguiding, Gymnastics club, Fireworks, Redbourn Fun Run, Fete du Velo, St Mary's Church, Redbourn In Bloom, Redbourn Cricket Club, Redbourn Players, etc
Were involved with the inception of Redbourn Christmas Market with its founder
We fund the service and repair work of the Redbourn Community Group Minibus
We're part of a team who run and attend Redbourn Classics
So, we're different!  We listen to your needs and deliver to you and the community, whilst supporting local charities.
We've met many people on our journey who have helped us on the way.  They may not necessarily understand their profound impact on our business, but we thank you all for keeping us in the village and helping us, help you.
Our MD was passionate about building a business based on trust and honesty, and that is exactly what he has achieved.  One customer feedback recently stated that he considered us the 'John Lewis of the motor trade' and we're very proud of that.
Come and have a chat to find out more about how we can help you with your vehicle needs.  Find us in Redbourn Industrial Estate or at Redbourn Classics on the Common on 3 September.
This is our passion.  We are Redbourn Auto Solutions.
https://redbournautosolutions.co.uk/wp-content/uploads/2022/08/10-years-a-1-pdf.jpg
960
1707
Melanie Wooding Jones
https://redbournautosolutions.co.uk/wp-content/uploads/2016/11/Redboun-Auto-Solutions-web-logo-300x114.png
Melanie Wooding Jones
2022-08-05 15:57:31
2022-08-05 15:57:31
Celebrating 10 Years!