Bringing the best tyres to you..
We work with two reliable partners to achieve the best for our customers.  Click on their logo's to take a look at their website.  When calling or checking prices on-l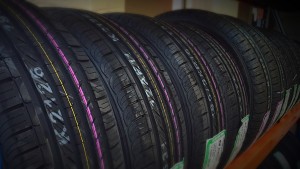 ine, you'll need to know your tyre size which is detailed below.
At Redbourn Auto Solutions, we hold sock of the most common tyres enabling us to get you back on the road quickly… and if we don't, we can get them in for you if you order before 11am.

Stapleton's has over 75 years' experience as one of the UK's largest distributor of passenger car, 4×4 and van tyres.  They hold an extensive range of brands from premium to economy ensuring that the right tyre for you is available.   This is possibly why they have been selected as the preferred supplier to esteemed franchise dealer groups.
You can call us for a quote, complete the form below or order on line here from the Service and Repair menu.  The link will also give you access to manufacturer's technical information, view images of tyre stock and place orders at any time.

If the replacement tyre isn't urgent, you may prefer to order on line through Blackcircles.  A very quick and easy service:
Find your tyre online by size or registration number.
Pay and nominate us as your preferred supplier at an available time slot.
Turn up and have tyres fitted while you wait.
We're a Premier Garage for Blackcircles!  With an extensive catalogue, Blackcircles feature a wide selection of tyres for every type of UK vehicle. So whether you need car tyres for your Ford Focus, van tyres for a Ford Transit, 4×4 tyres to be fitted to your Range Rover – they've got it covered.  Blackcircles even stocks options for vintage and classic car tyres, such as Morris Minor or Jaguar E-Type tyres – even hard to source whitewall tyres for your Volkswagen Beetle.
Which Tyre?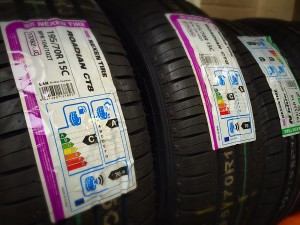 Tyres are all different.  The compounds for all weather, summer or winter tyres are different to give optimum performance in varying weathers.  When you call for a quote on your tyre, you'll need to know the tyre size.  Both the make and the size is marked around the outer rim such as:  215/60 R 16 91 V

What it means:
165     The tyre's width in millimetres (A)
70        The tyre's profile (B)
R         Indicates the tyre's construction type (radial)
14        Is the wheel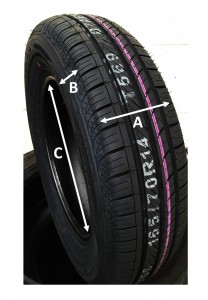 rim diameter in inches (C)
81        Is the vehicle's load index (maximum load)
T         Is the tyre's maximum speed rating
Make sure if you are calling to comparing prices, we quote a fully inclusive price including tyre, valves, fitting and VAT.
All tyres now come with performance ratings (photo) so you now have the ability to compare tyres accurately rather than just by brand.