How are we helping you?
At Redbourn Auto Solutions, we are a designated essential service provider and we remain dedicated to high quality service to ensure your safety on essential journeys.
We are committed to providing a safe and healthy environment for our highly valued team and clients.
Whilst always observing the latest Government announcements relating to the COVID-19 (Coronavirus) outbreak, we will be taking meticulous precautions to protect our staff and customers.
We have increased the number of FREE collection and deliveries so that you don't need to leave the house unnecessarily.
Should you visit, we have a robust hygiene procedure in place. Our premises are disinfected regularly throughout the day, particularly on high contact points. Although our Reception area is closed for waiting, we are situated within a lovely village to explore
Hand sanitizer is available for you to use and the team are hand-washing as frequently as possible
We are taking payments by phone only, prior to collecting your vehicle, or before it is taken back to you, to be as contactless as possible
If you are self-isolating or displaying any coronavirus symptoms, please let us know in advance. We will book your car in for when your 14 day isolation has been completed.
If you know of anyone in your family, friends or communities that need our help, please share our details.
We will continue to follow Government advice as the situation develops and will keep you updated on any changes to our services. In the meantime, we would like to say 'Thank You' for your understanding and wish you and your families well.
Redbourn Customers
If you live in Redbourn, we are part of a group of volunteers who help those in need. If you need help, let us know and we'll put someone in touch with you. We don't want anyone to feel isolated or alone. Community support can be invaluable.Our minibus is on indefinite loan to the Redbourn Care Group, to alleviate demand.
Update 19 March 2020
Discounts for Emergency and School Staff & prioritisation in our workshop
We're continuing to offer our Blue Light Hero discount to our emergency services and also our School teams. We have now extended this service to ensure their cars are prioritised through our workshop.
Update 20 March 2020
We're experiencing a high level of demand. We will continue to deliver exceptional service and have an additional member of the team from Monday. Thank you for your support.
Update 21 March 2020
Support for our Repurposed Restaurants and Pubs
With Restuarants/Pubs and others being forced to close, we're supporting those who have repurposed to provide and deliver essential food to our communities. Thank you to them for their selfless community spirit…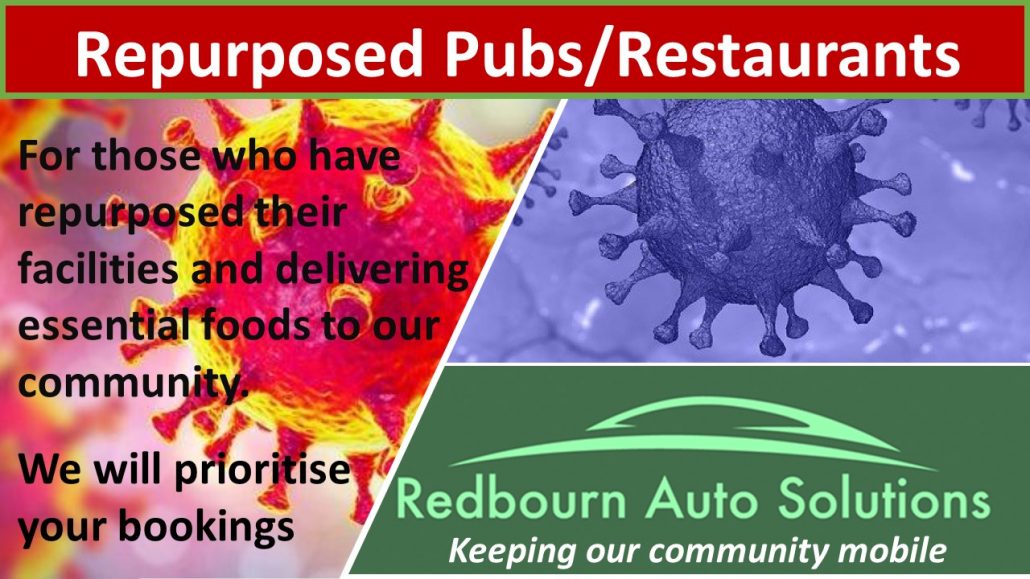 Update 25 March 2020
Changes to MOT
From 30 March 2020, MOT due dates for cars, motorcycles and light vans will be extended by 6 months. This is being done to help prevent the spread of coronavirus.
Update 26 March 2020
Garages are Key Workers
The Government have categorised Garages as Key Workers as they perform an essential part of the country's infrastructure in keeping our communities moving. We will remain dedicated to our customers to keep them mobile during the times when it is most needed.
Any vehicles due before this date, must still have their MOT completed. Drivers must ensure their car is in a roadworthy condition as all other legal requirements still remain in place. It could still invalidate your insurance if your vehicle is not deemed roadworthy!
Update 31 March 2020
MOT's have changed – but the law hasn't!
There are new temporary regulations on MOT's:
From 30 March 2020, MOT due dates for cars, motorcycles and light vans will be extended by 6 months.  DVSA will extend expiry dates automatically from this date.  They will be moving cars due in batches with extensions being granted 7-days ahead of the original due date.  So, if you have Car Tax due at the same time, you will only be able to renew this 7-days prior to the MOT expiry. They are doing this on a rolling basis so that they can change the rules at any time, should the Government relax the isolation requirements. Please make sure we have your correct contact details, so that we can advise you further.

For those whose MOT has expired prior to this date, do not drive your car without a current MOT as it remains illegal to do so.  If you need to use your car, please continue to book in with us in the normal way.  We are not closing.
If you do not need to use your car, you will need to SORN your vehicle to show that it is not being used.
For clarity, the DVSA highlights that regardless of the extension being given 'vehicles must nonetheless be 'safe to drive' and in a roadworthy condition'.
How can we help you?
By remaining open we can:
Ensure your MOT is current if you need one
Ensure your vehicle is safe to drive by completing a Vehicle Service, OR
If your service is not yet due, conduct a Vehicle Health Check
So, you can rest assured that we will help ensure you comply with this legal condition of driving safely on the road. We will be able to issue you proof that you have done this and therefore satisfy any insurance requirements.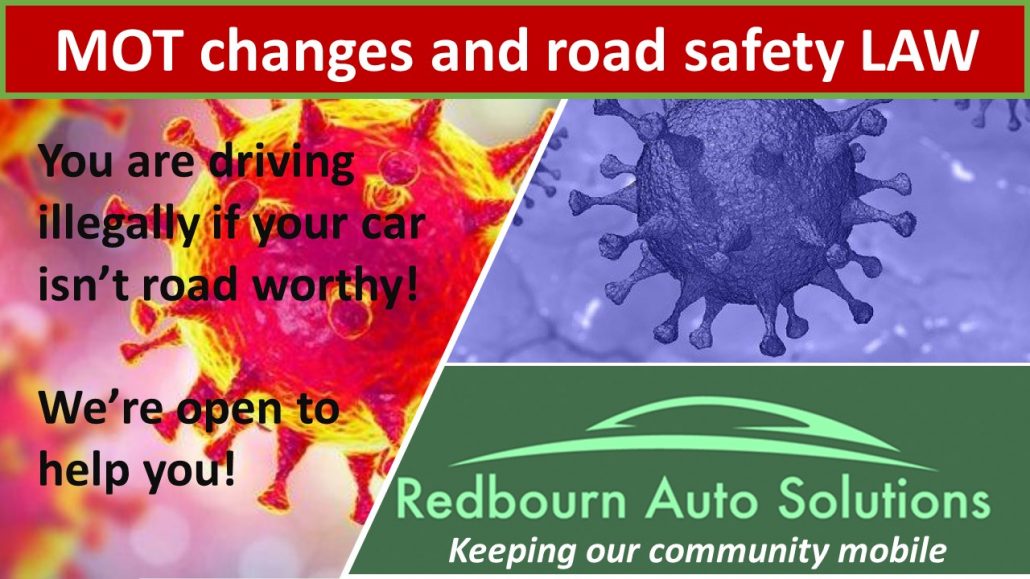 https://redbournautosolutions.co.uk/wp-content/uploads/2020/03/COVID-Announcement-Image-2-Open-1.jpg
720
1280
Melanie Wooding Jones
https://redbournautosolutions.co.uk/wp-content/uploads/2016/11/Redboun-Auto-Solutions-web-logo-300x114.png
Melanie Wooding Jones
2020-03-18 13:27:37
2020-03-31 12:05:16
COVID-19 (Coronavirus) Update